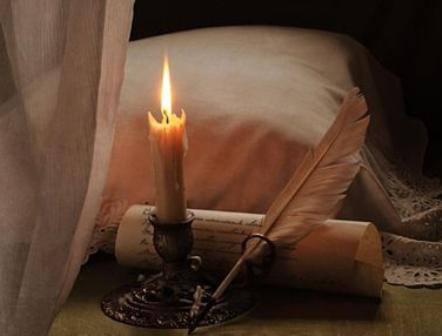 Julia's Letter
Hi John
I just want to thank you for your website and cannot believe that you even get opposite emails. I just ran into your site a few weeks ago and have probably read everything on it. I am so blessed by all the info, even though some of it is over my head at times. After having read survival sites and various other sites for a long time, your site is the only one that ultimately is really encouraging in the Lord and pulls it all together. Even after all the evil happening now and still coming, you have helped me put it into perspective, that we do not have to be afraid, that we are more than conquerors and that we will have the victory in the end. It is so easy to lose sight of that, when you real all these alarming events for so long. It is good to know your enemy, but in the end what counts is what we do about it.
After reading your stuff I started again praying more and more in tongues, doing more and more spiritual warfare and just overall having more hope again. I am so thankful also for the sense of humor you have and for the language you use. Your thinking process just blows me away, but it also clicks and is scriptural.
So again thank you, you are a blessing. whoever is really searching, will see the truth. You are pointing the way for whoever is willing to look.
Julia
in Texas 
Stan's Testimony and Letter
Hello John,
My name is Stan. You and Tribulation – Now, were introduced to me a number of months ago by our Brother Steve Qayle, just after the Gulf Oil Disaster . I have only followed Steve and his journey for a few years now. But, I know in the Holy Ghost that on that particular day I was linked to T-N to read your story. I was amazed to read another Brother, so completely expressing, so many of my own thoughts and emotions on that day. At that moment.
I followed a few days, then readily added T-N to my daily research/intel diet. I have been seriously studying and following Bible prophesy since1978. But, in all that time, I have never met anyone quite like you and your humble use of God's gifts. I have on many occasions, been prompted to write you, but so much recon to do. You know. But tonight, I could not sleep until I did.
Brother John, be encouraged in what you are doing!
Your sincerety, candor,wit,humor, and recent insights, that you so plainly share and express so well in print makes me truely feel I have known you for many years. And, maybe I have. It is as though we have been walking in paralel pathways and sharing the same thoughts, emotions, and tribulations most of our days in this dimension.
But, God let me see myself ( " think it not strange" ) and recieve encouragement through your pages when I really needed to. I don't feel so alone today. I truly know there is at least one other soul on this planet like me. Time is so quickly running out. So few will listen, fewer will read, and even fewer will hear what God is communicating to and through His people. We are Blessed!
And you, my dear Brother in Christ are chosen to do something I have wanted to do for years, but never did what it took to get started. John, you are so fortunate to be used by The King in such service. Be strong, take courage, keep following the Holy Spirit's leading as you are. I know that in your research, Jesus has always given you the freedom to do so without fear. He has also, graciously always shown you a line that if you crossed, would no longer be research and you would be consumed by the enemy. Never forget that Grace.
I don't know how much or how long we will be able to correspond. The rate of acceleration of revelations, connecting points, and convergence of events is mind blowing. You have been literally thrown into such a place of audience that is astounding. God has put you there! But, beware of the celebrity status and pride before a fall that satan is also setting you up for. That is your foremost threat at this time. If and when Jesus chooses to change how He wants you to serve His Kingdom, accept it with all of the gusto and heart you now give through T-N and He will bless. No matter what the assignment will be!
I volunteered to stay til the last soul was pulled from the flames. Sometimes, what that means is frightening. But, He is God All Mighty! My word will stand, if He chooses. Not by my strength, but His!
One last word, my dearest Brother. When you have a moment soon, go to Rev. 20, 21, and 22 NLT. Read word for word( as you always have ), take the deepest nasal inhale of this life, AND ,,,,,,,,,,,,,,,,,,,,,,,,,,,,,,,,,,,,,,,,,,,,,,,,,,,,,,,,,,,,,,,,,,,,,,,,,,,,,,,,,,,,,,,,,,,,,,,,,,,,,,,,,,,
" BE YE REFRESHED AND BE YE RENEWED, SAITH THE LORD OF HOSTS !
YOU, John Baptist, ARE MY "FIT EXTENSION" AT THE MOMENT ! "
And I think I heard Him say,
"NOW, PUT ON YOUR ARMOR AND GET BACK TO THE FRONT LINE.
WE HAVE A WAR TO FINISH ! "
Thanks, John
Love in Christ, Stan 
Nance K's Testimony and Letter,
Well, I think it is interesting how God ties things together in the most unusual way…for instance, He has been hitting me over the head with the HUMBLE thing for the last two days and there it is again, bolded in your email.
You stand firm and strong, brother. Here is my word for today….It starts with faith and ends up with love…and the journey to get from one to the other includes knowledge. That's for your help along the way.
His divine power has given us everything we need for life and godliness through our knowledge of him who called us by his own glory and goodness. Through these he has given us his very great and precious promises, so that through them you may participate in the divine nature and escape the corruption in the world caused by evil desires.
For this very reason, make every effort to add to your faith goodness; and to goodness, knowledge; and to knowledge, self-control; and to self-control, perseverance; and to perseverance, godliness; and to godliness, brotherly kindness; and to brotherly kindness, love. For if you possess these qualities in increasing measure, they will keep you from being ineffective and unproductive in your knowledge of our Lord Jesus Christ. 2 Peter 1:3,4
In Christ Jesus
Brian Said:
Hi John!
My name is Brian Rickert. I found your website about a month ago through Steve Quayle's website. I am a born again, Spirit filled believer! I was born again in 1998. It's a long story, but I was 42 years old and completely unchurched. The Spirit of the Lord showed up at my house in power and well, here we are! Can we praise Jesus for a minute?! Haleluiah!! Thank you so much for what you do!! It is of such great value! Please let me encourage you! Don't quit! We need you!
I took the red pill about 14 months ago and I haven't found the bottom of the rabbiit hole yet. Being a christian is really starting to get good! Can you believe that the Most High God chose us before the foundation of the world to live in this segment of time? What an honor!! (More praise!)
Anyway, please put me on your email list! A christian website void of christianese! How refreshing! I love the evil onion! It makes me laugh everytime I look at it! ( Kind of looks like a pastor I used to know.)
Thanks also for turning me on to Michael Heiser and Professor Luginbill. Intense! Not light reading!
I guess that's all for now. Thanks again John. You have enriched my life! I am praying for you and your family. Don't quit!!! May the Lord bless you and keep you, and His face shine right down on top of you!!
Your brother in Christ,
Brian
Deb S. said,
You'll be much pleased to know that when I first began to see what was up this was one of the very first studies I found. I listened to everything they had. That was two years ago….when I had a fast computer to whip through the stuff. It's even annoying to try to watch any Camelot stuff anymore since I'm out in the boonies with a wireless. Connected cable much much fast.
Anyways, here's the deal.
The Lord God Almighty opened my eyes and here I am knowing that you are the one out there net land that's on target we might say and speaking up about it. Keeping an open mind to allow your mind to wrap itself around what Jesus is showing us because He is showing us the comic battles, the supernatural, and bring us information that is hard to believe it at first because we stay "stuck". I remember totally being stuck because I was looking down an opposite road…..remember Midnight Express when the guy starts walking in the opposite direction of the comotose?
He said many shall come in his name. He also said He is coming with a new name known only to himself. We will also get a new name, written in a stone(?)…perhaps name of a solar system (wouldn't put it past Him at this point).
Also, the spirit will lead you into all truth and I know to keep my eyes on Him and to keep asking for Him to lead and show me. I've told my daughter more than once, "Why would the Lord show me stuff without a reason?" "There's gotta be a reason".
I didn't know they were gnostic until you just said something. I shy from everything that says they've got a secret. The Lord said to shout it from the mountain tops…..no secrets. No soul selling here.
I seek only truth and truth is the hardest stuff to swallow. At the same time I have a love for the truth. I appreciate you taking the time to explain those people (gnostics), it only proves where the Lord has brought me from in my fresh innocence of new eyes and ears because that's exactly when these videos showed up…..coincidence?
Time for the tamborine.
Deb
David L. Said,
Hi John,
Aside from requesting to be added to your email list I wanted to say how much I appreciate and admire you for taking on subjects that the vast majority of the body of Christ are completely blind to. I have been studying these same topics for the better part of 12 years. I have felt the frustration of not being able to discuss these things with almost anyone I know. Much of what the Lord has shown me has been difficult to swallow so I understand why most don't even want to entertain the idea that even a tenth of it is true. I believe not everyone is supposed to know of these realities just yet.
The Lord led me to your blog one day in late April of this year. I read it daily and soon discovered that you and I have been on a very similar journey. After 4+ months of reading your blog I decided to email you. You are the real deal. By that I think you know what I mean. You are genuine, humble, and transparent. You are not afraid to tell the truth .
I can't tell you what a blessing it has been to know that our King is knitting together those whom he has shown things such as he has shown us. As you are more than aware it can be a tremendous burden to be given this understanding. We all need each other to bring our parts to the table since we all see in part. The picture is starting to come together more clearly every day.
Most of all I am so glad to hear you, despite all of the "crazy stuff" God is showing us, trumpeting that fear is not an option. Doing what Jesus did is still the central focus. All of this heavy revelation is important because we need to know what we are up against. Most followers of Jesus today may not be ready to handle this info but some of us need to know so when intense deception the world has never known comes we will be able to more effectively present the truth to believers and unbelievers alike.
The Lord is peeling back veil that hides the secrets of our enemy. What army wouldn't want to know their adversary's strategy before going to war? Anyway I don't want to ramble, just wanted to say I'm praying for you, your family, and all who are a part of this.
I look forward to the exciting times ahead. Though they may be difficult, His greatest victories are ahead and we are on the front lines!
What you are doing is making a difference. Do not be discouraged. Thank you.
God bless,
John
 GOD BLESS YOU ALL SO MUCH
 SEE YOU AT THE MARRIAGE SUPPER