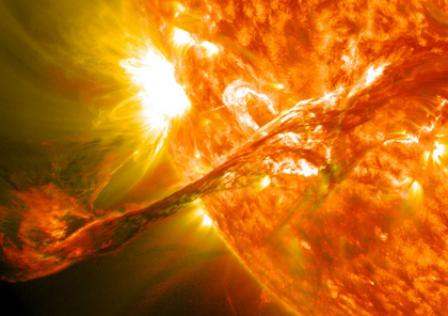 Visions of the Tribulation
On April 10th an again on April 12th, 2012 while in Colombia, SA; I had 2 horrifying dreams that were as real as being awake.  Special attention should be given to the Scripture that came to me as I woke in cold sweat.  They all relate.  As we are brothers and sisters to each other, we also have different ministries.
The important thing is that we not quench the Spirit, and be not trapped in the temporal.  Love and forgiveness are of Messiah.
April 10
I saw massive modern armies fighting at the orders of the bankers who have the same spirit as the moneychangers at the temple.  WW3 starts with a mass coronal discharge by the sun that knocks down all the satelites and nuclear missiles auto-launch that are space based.  This is imminent.  There will be all out nuclear war.  This is just after the Rapture.
I saw so much devastation, destruction, and blood, so much blood and suffering.  I woke in a cold sweat.  I have never written down a dream, but when the second and most horrible dream occured 2 nights later, I woke in tears and wrote what I saw.
April 12
My 6 brothers and sisters were all in our summer cabin, and there was a loft.  A man with huge muscles is about to kill my eldest sister.  I ran up the stairs and did slay him and saw that he was in a wheel chair.  I could not see his legs from downstairs because oft he railing, but he was huge and muscular.
He was going to kill my eldest sister, but somehow, I slayed him and then ran upstairs to see if he was dead.  He was not, but mortally wounded.
His legs wer skin and bone, but he was over 10' tall, a Nephelim; sons of the fallen angels.
I was weeping and praying for him, cradling his head.  His eyes turn from black to beautiful blue and he thanked me.  Then a huge amount of blood comes from his mouth with thousands and millions of dead aborted babies.  Horrible to say the least.  God is showing his wrath.
I was being told by a huge angel that the dragon still has power on the Earth, then the Scripture; Satan and his hordes are defeated by our testimony and the blood of the Lamb.
The US has become Babylon and is the same as the days of Noah.  Total horror will ensue the Earth as never before!
Again, the Angel speaks;  " Behold, I come quickly.  The great whore who has destroyed so many millions is now being judged.  The new Babylon, the US…………
"Oh Lucifer, the Day Star, how you have fallen from Grace like lightning.  The pale horse comes.  I hear the same words the Lord gave me when I was baptized;  I give to you the Sword (the Word) and I give you love!  He also gave me His Holy Spirit.
I awoke in sweat and wrote these scriptures;
 
Isaiah 29
King James Version (KJV)
29 Woe to Ariel, to Ariel, the city where David dwelt! add ye year to year; let them kill sacrifices.2 Yet I will distress Ariel, and there shall be heaviness and sorrow: and it shall be unto me as Ariel.3 And I will camp against thee round about, and will lay siege against thee with a mount, and I will raise forts against thee.4 And thou shalt be brought down, and shalt speak out of the ground, and thy speech shall be low out of the dust, and thy voice shall be, as of one that hath a familiar spirit, out of the ground, and thy speech shall whisper out of the dust.5 Moreover the multitude of thy strangers shall be like small dust, and the multitude of the terrible ones shall be as chaff that passeth away: yea, it shall be at an instant suddenly.6 Thou shalt be visited of the Lord of hosts with thunder, and with earthquake, and great noise, with storm and tempest, and the flame of devouring fire.
Habakkuk 1:1-3
King James Version (KJV)
1 The burden which Habakkuk the prophet did see. 2 O Lord, how long shall I cry, and thou wilt not hear! even cry out unto thee of violence, and thou wilt not save!3 Why dost thou shew me iniquity, and cause me to behold grievance? for spoiling and violence are before me: and there are that raise up strife and contention.
Psalm 82
King James Version (KJV)
82 God standeth in the congregation of the mighty; he judgeth among the gods. 2 How long will ye judge unjustly, and accept the persons of the wicked? Selah. 3 Defend the poor and fatherless: do justice to the afflicted and needy.
4 Deliver the poor and needy: rid them out of the hand of the wicked.
1 Peter 1:3-7
King James Version (KJV)
3 Blessed be the God and Father of our Lord Jesus Christ, which according to his abundant mercy hath begotten us again unto a lively hope by the resurrection of Jesus Christ from the dead,4 To an inheritance incorruptible, and undefiled, and that fadeth not away, reserved in heaven for you,5 Who are kept by the power of God through faith unto salvation ready to be revealed in the last time.6 Wherein ye greatly rejoice, though now for a season, if need be, ye are in heaviness through manifold temptations:7 That the trial of your faith, being much more precious than of gold that perisheth, though it be tried with fire, might be found unto praise and honour and glory at the appearing of Jesus Christ
1 John 1
King James Version (KJV)
3 That which we have seen and heard declare we unto you, that ye also may have fellowship with us: and truly our fellowship is with the Father, and with his Son Jesus Christ.4 And these things write we unto you, that your joy may be full.5 This then is the message which we have heard of him, and declare unto you, that God is light, and in him is no darkness at all.6 If we say that we have fellowship with him, and walk in darkness, we lie, and do not the truth:7 But if we walk in the light, as he is in the light, we have fellowship one with another, and the blood of Jesus Christ his Son cleanseth us from all sin.8 If we say that we have no sin, we deceive ourselves, and the truth is not in us.9 If we confess our sins, he is faithful and just to forgive us our sins, and to cleanse us from all unrighteousness.
1 John 3:22-24
King James Version (KJV)
22 And whatsoever we ask, we receive of him, because we keep his commandments, and do those things that are pleasing in his sight.23 And this is his commandment, That we should believe on the name of his Son Jesus Christ, and love one another, as he gave us commandment.24 And he that keepeth his commandments dwelleth in him, and he in him. And hereby we know that he abideth in us, by the Spirit which he hath given us.
1 John 5  King James Version (KJV)
11 And this is the record, that God hath given to us eternal life, and this life is in his Son.16 If any man see his brother sin a sin which is not unto death, he shall ask, and he shall give him life for them that sin not unto death. There is a sin unto death: I do not say that he shall pray for it.17 All unrighteousness is sin: and there is a sin not unto death.18 We know that whosoever is born of God sinneth not; but he that is begotten of God keepeth himself, and that wicked one toucheth him not.
Jude 1:12-15
King James Version (KJV)   Chemtrails and weather manip! DNA manipulation of food.  Terrible storms
12 These are spots in your feasts of charity, when they feast with you, feeding themselves without fear: clouds they are without water, carried about of winds; trees whose fruit withereth, without fruit, twice dead, plucked up by the roots;13 Raging waves of the sea, foaming out their own shame; wandering stars, to whom is reserved the blackness of darkness for ever.
14 And Enoch also, the seventh from Adam, prophesied of these, saying, Behold, the Lord cometh with ten thousands of his saints,15 To execute judgment upon all, and to convince all that are ungodly among them of all their ungodly deeds which they have ungodly committed, and of all their hard speeches which ungodly sinners have spoken against him.
There is no need for me to explain these Scriptures as they speak of all that we see and will shortly see!
God bless the righteous!  george morabit