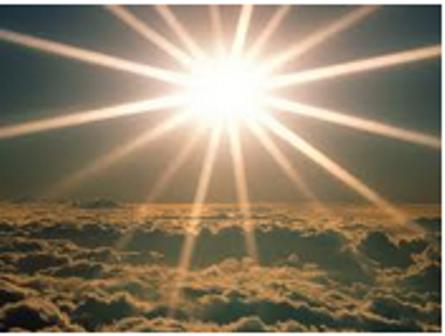 Trudy's Children's Shared Dreams:
Saturday night, March 26- Zoe, 10 yrs. old-
I was walking through a store and I saw a baby who was all alone sitting on a counter. It was crying. I went over to it and picked it up. I started to rock it in my arms to calm it down and I asked him what was the matter. "Whats wrong baby?" I asked while patting his back. The baby answered me! I was shocked because the baby was too young to talk. The baby said that his Mommy and Daddy were missing. "Where did you last see them?" I asked. He said that the last time he saw them they were with a man with blonde hair named Tinkt.( She was specific with the spelling of this name. The baby had shown her a picture of the man with his name under it.) I told him that I would help him find the man named Tinkt. We looked around the store and we could not find him or the baby's parents. When we came back to the front, I saw Tinkt walking out of the door. I caught up to him and asked him about the parents. He said that he didn't know what I was talking about. I knew that he was lying because his nose started to twitch when he answered me. Suddenly, he pulled out a long sword and started to swing at me. I had a sword too and we started to fight in the parking lot. After a while was able to take his sword and pin him down. He finally admitted that he had taken the parents and had fed them to his MAN EATING LIZARDS. I turned him in to the police and took the baby home with me. When we got home I put the baby down to rest and I went into the living room. There was a lizard in the house and it started to hiss and nip at my toes. It was trying to eat me. I started to kick it off and I woke up.
I asked her what the lizard in the dream looked like. She said it was green with black eyes and a horn. She said that it was VERRRY scary.
Have a Blessed day,
Trudy
Jenna, July 16th -"
Just wanteds to drop a line and share another one of the girls dreams.
Jenna, July 16th -" There was a spaceship hovering across the street from our house. The house that is on the lot across the street was not there in the dream, it was gone. There was a red lazer beam coming from the bottom of the ship. The ship was moving veeery slow like this." (she showed me with her hand)" As it was moving it was burning everything in its path. The ship was flat and egg shaped. There were square windows all across the pointed front. There were two ball shaped things, one attached to each side of the ship and they had little windows across the fronts too.It was white." I asked her if she thought they were creatures like aliens inside. She said that she KNEW they were human. Hmmm? I asked her if she could see them and she said no, she just knew. I asked her what were they doing? She said that they were burning everything. Then she goes on to talk about being in the attic. I asked her who were the people? She said some were family(like grandparents) and shrugging shoulders she said, "Just other people." She said that she kept pointing to the ceiling and telling the people to look." LOOK! LOOK!" she said trying to warn them and urging them to pay attention. She said, "Mom, nobody cared. " I asked her what was it that she was pointing to? She said the ceiling was starting to smoke and she knew the lazer was on the roof. I asked her if she was older in this dream also. She said that she didn't think so. Hmmm.
Wellll, I think the "human" part of the dream is very interesting!
As always, input is welcome! God bless!
John Baptist's Comment:
No there is nothing unusual about these "demon aliens" working with "humans". This is exactly how it works. The U.S. government has signed a pact with the "devil" and these "things" are working with our "black ops" groups. Thank you for this …. it's pretty scary … but no doubt from our Lord as a warning. Be Blessed In Jesus Name.
Shared Dream Two: "Animal-People"
My twin daughters who are ten had some pretty significant dreams I would like to share with you. As I read you information concerning an invasion I tear up because I KNOW IN MY HEART that what you are sharing is true. Something is coming! Although I have done some of my own research involving fallen angels I do not share any of that information with the children. They have received no information from me and their wording has not been influenced in any way. In fact they didn't think much of the dreams. Just a need to tell me about them.When my daughter Zoe shared her dream with me the only thing that got her attention was that Jesus was in the dream and animals were working out. She was very specific about her wording. Here is what I remember.
Zoe's dream- "We were all riding in the car, me Jenna(her sister),Dad and you. We passed a gym and no one else in the car could see what I was seeing inside. I could see through the wall. Inside there were animals working out." I asked her what kind of animals. She said," Pawed animals, like foxes and wolves." I asked her what were they doing specifically . She said ,"they were exercising their legs and doing yoga. They were using the equipment to strengthen their legs because they wanted to walk like us on two legs." She said ," They want to show us what they can do." She said,"next we drove to a parade but the floats had already passed and the foxes and wolves were lining up behind the parade to walk through town. They did not have a "license" to walk but they were going to show us that they could.
"Next we saw a mountain with a castle on it and we wanted to check it out. We drove to it and all got out . We went to the top of the castle. There was a couple there and it looked like they were newly weds or something. The bride was not happy." I asked her why she thought that. She said ,"she had a frown and she thought that the marriage looked prearranged or something." I really don't know what made her believe that but thats exactly how she said it. Then her face lit up and she said,"and Jesus was there." Jesus talks to Zoe in her dreams. I asked her what he said. "He told us all to look down out of the window. There was a dead eagle there laying on the ground and he told someone to bring it to him. When the eagle was brought to Jesus he ran his hand over it and said rise." She showed me with a gesture. " It came back to life! Jesus jumped onto the back of the eagle and flew out of the window. He disappeared into the sky and when the eagle came back Jesus was gone but the Eagle was glowing blue and he landed back into the room." Wow! There is a lot in there.
Jenna's dream- " My body was flying above an unfinished city. It looked ancient because it was dirty and all overgrown but it was made of concrete and metal. The buildings looked like tall parking garages. They had foxes and wolves and buzzards. They all had large K-nines. "(she said that) All of the animals were growling and screeching like they had rabies but they were not foaming at the mouth. They were crazy! They were everywhere! Pacing on every floor and in the streets. Then a man came flying up to me in the sky. He was riding in something like a helicopter but it was like a clear bubble. Completely round but moving like a helicopter and he shouted to me with a megaphone. He said that if any of his creatures bit me that they would poison me. I landed and they surrounded me. I wanted to wake up. She realized that it was a dream and started trying to wake up. One of the creatures nipped at her but it did not break the skin. She said that the wolf that tried to bite her had wings and when she looked around they all had wings. She told herself to wake up and she did.
I personally think there is so much here on many levels. The main theme that seems to run through this is INFILTRATION. Foxes and wolves in the Bible devour and destroy .I think these demons are on the move. I pray that peoples eyes will be opened and they have ears to hear what the Spirit is trying to tell us. I worry that a large majority of the body are so lulled that they could care less about whats going on. I pray that people start getting in Gods face like never before and find out what his perfect plan is for them and their family at this urgent hour. Thank you so much for all of the long sleepless nights and many hours you dedicate to getting this vital information out. That too seems so overwhelming at this time. So much to know, so little time. I would welcome any comments and opinions . God Bless,
Trudy B.
Buddy's Dream of the Rapture
Good morning John. Congrats on your new job. I pray you won't be there any longer than necessary.
I want to tell you about a dream I had last night that was so vivid and intense that I feel compelled to share it.
I was looking out my window at home, looking at the full moon. This was a full moon, brighter than I ever remember and surrounded by millions of bright stars. It was so unusual in appearance that I went outside to get a better view.
I lay down in my driveway and just stared at the awesome sight. While I was looking at it, suddenly the moon and all the bright stars around it moved at a breakneck speed from its place about midsky, eastward to just above the horizon, held there for a moment, then was instantly back in its place. Then, the moon went totally dark, along with the stars around it, and I could see all the stars in the heavens going dark.
Right after that I saw and heard some type of craft, glowing like flame in the sky above. It was shaped almost like a microwave dish, with some type of array in the center. It started moving across the sky, and as it moved it seemed to be aiming at different homes.
As it would pause at a home, briefly, I could hear a strange, zapping, sucking sound and see a brief flash of light streaking toward the craft.
I knew immediately what was going on and began jumping around for joy and singing out loud " THE LORDS COME TO TAKE US HOME, THE LORDS COME TO TAKES US HOME, THE LORDS COME TO TAKE US HOME, THE LORDS COME TO TAKE US HOME,"
If you knew me you would know how out of character it is for me to sing out loud at all but I was bouncing around like a banshee. I am not sure yet why I had this dream but for some reason I am compelled to share it with you.
Praise King Jesus I think we are going home!!!!!!!
–Buddy
Nativaele's Alien-Demon Experience
Hi John
Read testimony below and it will tell you why i do . I think you will believe me and what happened to me . no one else does except my husband.
Testimony, Before i ever heard of those lizard looking people and i ever was on the Internet i was in my house at another city at the time and i had a spiritual attack the likes of which took me several years to get over. During the attack this evil looking being materialized out of nowhere . It was green looked humanoid with small horns and had eyes that looked like a lizard. It was about 6ft or more. It set on my bed so i could not tell really how tall it was. The pupils were slits up and down and they were yellow. I tried to tell people but they just thought grandma had gone off her rocker. Well we moved and i was attacked again. I still had not gotten a computer and knew nothing about these things .
This time 2 little beings came as i was trying to sleep and got ahold on my spirit man and started hauling me off to, i have no idea where, my body just stayed on the bed. I was terrified . I cried out to Jesus for help as i had not yet started calling Him His real name yet and a bloody hand reached out to me and caught my right hand and drew me with a arm that looked like it had stretched out to grab me from far off . It Reeled me in and low and behold the arm was connected to YESHUA .
He pulled me up on this piece of rick that looked like a huge surf board flying thru the air very high up over the earth. There was a spear there laying on the rock and i knew to pick it up as it was the same spear that had pierced His side . I then knew i could turn on those things that looked like those little grays some what and i did and they turned and ran . The precious Holy Spirit was guiding me. I do not know if this was a vision are what but it felt very real to me. There is more to this but it would take a lot of time to tell it all . Needless to say i have had a taste of what our Enemy and his minions can do but i learned that the Blood of Jesus is far greater than any alien .
I do believe that what you are saying is true about this alien /human blood line and i have seen the skull you are talking about on web sights.
I have seen a human print at Glenn Rose ,Texas in mud rock. I have also seen pictures of of foot prints walking in mud mixed in with foot prints of dinosaurs so it could be they were still around when man was here before Noah's time and Mexican pottery with dinosaurs painted on them so in my mind i am not sure some of those things did not still exist after the flood.
Have a great day,
God bless, love
Nativaele
Sharon's Dream and Revelation:
Hi John…hope you are well…
My friend in Great Falls Virginia has been talking about this sound that keeps coming over her house, makes the ground and house quake like a helicopter thats waaaay too close and yet there is nothing visible. She has been telling me this for about 3 weeks and now others are joining in….very creepy.
John I had a VERY weird dream the other night and I have not said anything about it but now I have to tell you. You know that satan and his buddies like to imitate EVERYTHING that God does. Well, you know the part where the dead in Christ rise first? I believe from my dream that their dead in satan will also rise. Here is what I saw:
I was in a strange city that I did not recognize and it was night. I walked outside and all the sidewalks, streets and such were a mess in parts. Like someone had been digging all over in different areas. The concrete was moved to expose the earth and the earth had huge holes in it. My attention was drawn to one of these holes that had a crowd of people around it so I walked over there.
As I approached they made way for me to walk to the edge so I could see and in the hole was a coffin that was open. There was a woman lying inside in the classic death pose…hands crossed on her chest. My first thought was that this must be a burial ground. But then here eyes began to move under her eyelids. People were saying look she's alive excitedly and I was thinking this is NOT right. She was clearly dead moments ago.
Then people began to climb inside the hole to help her and they helped her stand up…she was HUGE! I would not call her giant as in like 15 feet or anything but waaaaay bigger than any earthly female should be with an unusually large head. She had a very tiny nose considering the size of the rest of her it looked weird, deformed and not normal. At this point I was backing away from this whole group. Clearly they were either unaware of what they were dealing with or they were not fully human either.
She was helped out of her "grave" and appeared to be cold and shivering and not completely here altogether yet. They led her to a place to sit and were tending to her and then I woke up.
Now clearly there were many other "graves" that had either already been unearthed or they were working on it. But I have to point out that since this has happened I keep seeing things that seem to be telling me that what I saw may very well happen.
Such as the post you just made of:
Jer 5:14-19
15 Behold, I will bring a nation against you from afar,

O house of Israel," says the Lord.

"It is a mighty nation,

It is an ancient nation,

A nation whose language you do not know,

Nor can you understand what they say.

16 Their quiver is like an open tomb;

They are all mighty men.

(Note: This is OT 1368: Gibborim, Giant, offspring of the Nephilim, "from the heavens they came")

17 And they shall eat up your harvest and your bread,

Which your sons and daughters should eat.

They shall eat up your flocks and your herds;

They shall eat up your vines and your fig trees;

They shall destroy your fortified cities,

In which you trust, with the sword.

18 "Nevertheless in those days," says the Lord, "I will not make a complete end of you. 19 And it will be when you say, 'Why does the Lord our God do all these things to us?' then you shall answer them, 'Just as you have forsaken Me and served foreign gods in your land, so you shall serve aliens in a land that is not yours.'
And yesterday when you printed this which I have on my own site:
Isa 26:20
20 Come, my people, enter your chambers,

And shut your doors behind you;

Hide yourself, as it were, for a little moment,

Until the indignation is past.

21 For behold, the Lord comes out of His place

To punish the inhabitants of the earth for their iniquity;

The earth will also disclose her blood,

And will no more cover her slain. NKJV
This is getting too creepy…like the best, worst scifi book we ever read!
Thank God we know our God and thank God He has allowed us and led us to Him!
God bless,
Sharon
Rick's Dreams of Astonishing Revelations
First dream
I'm teaching a Sunday School class with young children. We are sitting at a children's little table and chairs. Behind me in walks a couple. The woman is behind my left shoulder and the gentleman behind my right. The woman put her hand on my left shoulder and said "Ricky, you have no idea how the master loves you". She was chuckling as she said it and repeated "You really have no idea".
I wondered how the woman even knew my name as I had never met this couple ever before. As she was saying this a peace and love with no explanation came over me. There are no words in our language that can explain the peace and love that came over me.
I looked to the right and the gentleman that was with her smiled and nodded as if to affirm to what she had said. At that point I began to sob. Next thing I knew a large figure of a man came beside me and put his hand down as if to say "take my hand". I grabbed his wrist firmly and began to cry even harder as the peace and love feeling grew greater yet. As I looked up I saw that he was wearing a white cape and surrounded me in it.
Then I woke up from my sleep. I asked God what was this about, crying and then fell back asleep.
Second dream
I was walking around an Off-Road Race. (I use to build race engines for teams and had to go to the races to oversee the engines). The trucks were on the track doing their "Parade Lap" as I walked up to the fence to watch the race (it was a night race).
Just then they stopped the trucks for introductions and to sing the national anthem. I looked up into the sky and saw three crafts with three lights on each craft moving up and down and side to side in unison. Please understand I have never ever seen a UFO or alien in real life. As I was watching people in the crowd began to look up and point. People began to rumble; you can just imagine what they were saying. This lasted a few minutes when all of a sudden enormous pyramid shape crafts appeared along with the original 3. The people around me began to panic. I began to shout "They are not our friends, they are not our friends!!!". "Accept Jesus as your Lord and Savior". I just kept shouting this over and over. The people were in such a panic they would not listen.
I turned over my shoulder and saw a blond woman standing there and I said "Accept the Lord as your Savior. These are not our friends". She replied "I thought so". She was one out of how many people that recognized that fact. Then all hell broke loose. I saw helicopters and planes attacking the crafts. It was on; it was WAR.
Then the dream ended. I'm still shaking.
Joe M.'s Prophecy
"My coming is very near, saith the LORD. Even beyond the door. I will show even more signs, saith the LORD. Many will not understand. Many will seek answers but they will not understand. I will do a mighty work on the earth before I come. I will do a mighty shaking. Many are still clueless to the nearness of my coming. Why won't my children come to me? Why are they following their own heart's desires instead of my truth? Why won't they come to me? Am I not a loving GOD? I long to gather them in my arms. They have turned to a path that is strange. But I will gather those whose hearts are tuned in to me. Many are suffering because they have lost their faith. Many are seeking to solve their own problems instead of trusting me. Many I've set free, but they are in prison because they don't trust me. I can free them but they will not allow me. How I grieve for my children because they don't have to live in fear. Many of them have wants and needs because they don't trust me. Many are suffering. They don't pay tithes. But I will continue to be GOD even if they don't trust me. Wickedness is increased. How much longer must I put up with this generation? They blaspheme my Holy Name with this so-called television. They're compromising. How much longer must I tolerate them? It's time for me to show myself. I sit in heaven. I will judge. I'm holding back the judgments and the evil because my bride is still here. Man has polluted the earth, polluted themselves. They have invented things I have not given them permission to invent. Do not worry. Everything that is happening, is happening on my watch, on my timetable. Be ready. Many will be lost. The truth will be known on that day. Do not be afraid to tell them I'm coming! Stand up for me. You are my representatives on this earth so someone's soul can be saved, someone can be restored! I do not do anything unless I first tell my prophets… The door of grace is about to close. Time is up. No more delays. Can't you hear the ticking of the clock? Reality is about to be known. The Reality of truth."
Joe M
Jason's Dream of an Asian Volcano
Ok, I have finally come to the point where I feel I need to share this with someone. I had a dream about 6 months ago…
I was in an Asian country (possibly Japan) – I was walking down a crowded street with what I thought was some type of tourist group, we were headed west and in the distance was a very large mountain (Mt Fuji?) As we were walking along, the ground began to shake and people started to scream – I knew it was the mountain/volcano starting to erupt. I began to run along with the crowd, at first we ran east back towards the ocean, which I could clearly see. The crowd turned to the left and people began to climb up on anything they could get a hold of. I started to yell at them that they had to get down and get to the ocean; it was the only safe place. The people began to yell back at me and push me away very angrily. I turned and ran back down the alley towards the ocean – I had an incredible sense of panic – my heart was racing and I was breathing heavily – I felt like I wasn't going to make it out in time. At the end of the street was a small fence, which I climbed over and then there were four sets of rail tracks, with a loading platform directly across from me.
As I looked to my right, I saw that the tracks entered a tunnel – actually there were two tunnels side-by-side, with 2 tracks in each. Someone spoke to me and said, 'This is the Nostril of the Beast, and when the trains come rushing out of the tunnel at the left and goes by the landing, it has a gush of wind that the people call the Breath of the Beast'. I don't know who said this to me, as there was no one around. I ran toward the tunnels, thinking I could take cover in them. The right side was boarded over, so I moved to the left. As I approached the opening, a great sense of fear came over me, and I knew if I entered, I would not come out alive.
To my left I saw the ocean, and immediately knew I had to get out into the water. In the water was a long dock with a boat tied to the end. I ran and jumped in the boat and began to frantically try and start it – I thought to myself, what if the keys aren't in it, what will I do? Somehow the boat started, I don't remember how. I pulled away from the dock and headed straight out into the ocean. I felt certain a great tsunami was approaching, and I had to get as far out as possible to escape it Again I felt someone telling me to go parallel to the coast line when I was about a mile out.
As I looked back, I could see the volcano if full eruption, and just then a large wave passed under the boat – it was the tsunami heading into shore. At this point I awoke. I was very unsettled by the dream, first due to what had happened and then secondly to the fact I could remember every detail. I can never remember my dreams, so I thought this was strange, I felt the dream had significance, I haven't been able to get it out of my mind for the past 6 months. Maybe the location is a real place, maybe the dream is a warning, I don't know.