Tribulation-Now Radio Shows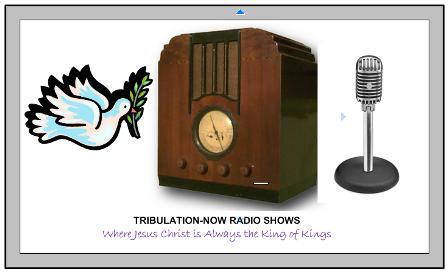 LIVE with Open Chat Room 
WEDS AND SUNDAY NIGHT 
8PM ET / 7PM CT / 6PM MT / 5PM PT
WWW.BLOGTALKRADIO.COM/TRIBULATION-NOW
Please consider registering to receive email announcements of forthcoming radio shows HERE.
STITCHER PODCAST APPLET
Radio Show Information Page
Just click THIS LINK to be taken to the Tribulation-Now Online Radio Show "Information Page".  Here you can find direct links to items and information mentioned on the radio shows such as Show Notes,  You Tube videos, T-Shirts,  the Facebook Page, Twitter, and many other resources.
Current Radio Shows
Be sure to "CLICK HERE" to see all the shows available on the Blog Talk Radio Show page.
Radio Shows Location: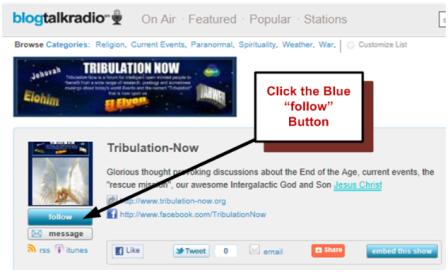 Radio Shows Location:
http://www.blogtalkradio.com/tribulation-now
How to Download Shows: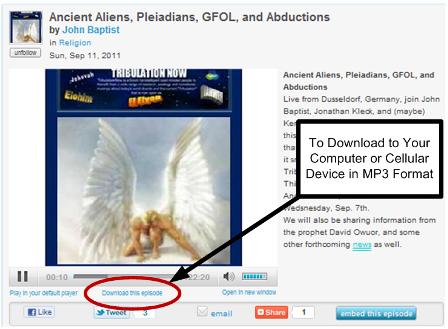 Please go to the individual shows at http://www.blogtalkradio.com/tribulation-now
To download the shows via modem and hand-held devices by clicking on the "download this episode" link.
Radio Show Guidance
The following are links to Tribulation-Now "Blog Talk Radio Shows" complete with descriptions.  We pray you are blessed by the current event updates and information provided to help you prepare in these challenging times.
REMEMBER:

Just because a radio show is entitled "The Baptism of the Holy Spirit" doesn't mean that's all we talk about.  Every show includes information on current events and how to prepare for the dark days ahead.
FaceBook Page Show Notes
Don't forget that many of the Radio Show "show notes" are available on the Tribulation-Now FaceBook page.  Login to FaceBook and search on "Tribulation Now".  Email Cathy Dunson at perelandra77@gmail.com for more information.
Older Radio Shows and Descriptions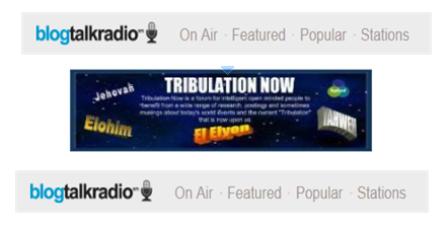 Red "Canary", Hoover Dam, and Displaced Civilians (Alerts)
Join Kenneth and John, and Cathy (in the chat room) while they discuss the alarming increase in alerts and issues surrounding the El Hierro volcanic activity and the possibility of a mega-tsunami affecting the eastern seaboard of the U.S.
We will also tackle pressing new news surfacing about possible cracks in the Hoover Dam caused by earthquake swarms in the region.  We expect Jonathan Kleck to share his expectation that the Hoover Dam may possibly be the dam shown on the $50 dollar bill.
There are also strange colorful anomalies showing up in Google Sky that appear to be intentionally blocked. Moreover, October 28th supposedly ends the Mayan Long Count Calendar according to Dr. Calemen, while the November 11-11-11 mystery has yet to unfold.
All the Glory to Jesus Christ our King.  Stay ready for anything and remain in praise all throughout the day.
See you there!
Calm Before the Storm & The Forthcoming Rescue Mission
Join John and Kenneth as we cover the last weeks crescendo of events.  Increases in earthquakes, volcanic activity, booming / moaning sounds, financial collapse rumblings, and increases in UFO "fleet" sightings.  We will also discuss the October 28th end of the Mayan Long Count Calendar, the forthcoming global earthquake, and the arrival of the Mayan "New Men of Knowledge" (also predicted by the Hopi).
We will also touch upon the Bible scritpures associated with the "rescue mission" of the Bride of Jesus Christ and the timing of those events.  We will discuss the "intergalactic" likelihoods of how the rescue may unfold and why it's imperative that we continue to LOOK UP ….. because our redemption draws nigh.
God Bless You

Nibiru, Cataclysms, Prophecies and Alien Invasions
Join Kenneth and John to discuss sufacing information regarding Nibiru (Planet X), the current predictions, global cataclysms, the Canary Islands connection to Dr. Owuor's "Second Earthquake" prophecy, and the mysterious word "stupefy", how it was given by the Lord to Jonathan Kleck and what it "might" mean.
We will also be touching on some ideas regarding how to be spiritually prepared and ready for anything as we move rapidly into October with the Dr. Carl Caleman calculation of the Mayan calendar ending on the 28th, and how this might play into the "rescue mission" of the Bride of Jesus Christ our King.

Second Sun Phenomenon & Forthcoming Expectations
Join John and Kenneth as we discuss the strange uprisising in "second sun" phenomenon and share amazing You Tube videos of this "sign" in the heavens.
We will also be discussing the expected timeline of events as they apply to the scripture in Revelation and the prophecies of Dr. Owuor.
We will also be taking your calls for prayers and discussing how you can prepare yourself spiritually and pray appropriately for yourself and your family.
GLORY TO OUR KING JESUS CHRIST

Elenin Nibiru Warnings for This Week
Join John and Kenneth for a "last minute" recap of all the Elenin / Nibiru claims and events surrounding this next week.
From enormous FEMA drills in Denver and claims of "elite" traveling to Denver, to the September 26th Elenin alignment with the Sun and Earth crossing the ecliptic plane, to the Feast of Trumpets occurring this week, everyone is pointing to this week as being "huge".  We will also touch upon the November 11-11-11 alignment of Elenin as well.
We will also discuss remaining sober (1 Tim. 1:7)  and ready for anything, while touching upon some of the common misunderstandings that might add to the confusion of this exciting period in time.
Remain excited, remain ready.
God Bless You All

The Ashtar Command Reptilian Conspiracy
(Part 1)
Join John Baptist and Kenneth Beer for an in depth look at the Pleiadian – Andromedan – Reptilian conspiracy and how the New Agers have been "duped" by the lying Galactic Federation of Light.
We will touch upon the ancient history of these beings and how it all maps back to our Heavenly Father's Holy Bible.  We will explore the intentional demotion of our King Jesus Christ to a mere "ascended master" to assure the destruction of those who fall for the deception.

911 Obama Antichrist Proclamation & C. S. Lewis
Join Tribulation Now's thought-leaders Cathy and show co-host Kenneth as they explore C.S.Lewis and his Space Trilogy.
John Baptist also calls into the show to explain the 911 Psalms 46 Obama speech of blasphemy before our Heavenly Father proclaiming "he is God".
They'll compare his writing to what we know about our Awesome, Most High God of The Universe.
What did the popular Christian author C.S. Lewis "know" about our Intergalactic God and "other" creatures in this universe that may have been hidden in medieval and ancient literature?

Ancient Aliens, Pleiadians, GFOL, and Abductions
Live from Dusseldorf, Germany, join John Baptist, Jonathan Kleck, and (maybe) Kenneth Beer, for a discussion about all this creepy UFO and ancient aliens stuff that we are experiencing today and how it snaps into the timeline of the Great Tribulation.
This will be a type of "part 2" to the Ancient Aliens, Pleiadian show from last Wedsnesday, Sep. 7th.
We will also be sharing information from the prophet David Owuor, and some other forthcoming news as well.

Links Associated with the Show Discussion:
PROPHECY OF DISTRESS & UNREST COMING
Prophet Dr. Owuor
http://www.youtube.com/watch?v=JEKYVEIO8lI
Bubble cloud over Beijing

Bubble of light in Hawaii

Revelations of Revelation
http://www.tribulation-now.org/2011/09/09/revelations-of-revelation
Ancient Aliens, Pleiadians, and the Federation of Light
Who are we REALLY in the Universe of intergalactic beings?  Join John and Kenneth for an in-depth look at why the Ancient Aliens episodes, the scientific and archeological evidence and ancient writings are basically correct.
In this show we will explore the "creator gods" spoken of in Genesis One and how the Bible talks about the Ancient Aliens and Annunaki "star gods" and their associated Federation of Light "beings".
Let's find out the truth that the "Galactic Federation of Light" conveniently leaves out of their version of creation.  Let's see how our "Heavenly Father" (YHWH) had warned us about it in the Holy Bible of the "Adamic bloodline" and why we are so special in the Universe.
Elenin, Nibiru and the Trumpet Judgments
Join John and Kenneth for a recap of information associated with Elenin and Nibiru and how these cosmic objects potentially relate to the forthcoming Trumpet Judgments.
We will also discuss any new information that surfaces between now and show time.
God Bless You
Elenin Alerts, Nibiru, & Alarming Hopi Prophesies
Elenin Alerts & Prayer Requests
New alarming alerts and information has come in confirming the likeliness of Elenin related events in September.  This information needs to be brought forward.
We will also be taking prayer requests and giving glory to the King this evening.  Time appears to be very short and preparation is necessary.
The Edge AM Radio Show
Glory to Jesus last night (8-27-11) I was blessed to be able to "get the word out" to a vast number of listener of "The Edge AM" radio show with Daniel Ott.  The show went very well and praise God we talked about everything from ETs, to Nibiru,  to the rapture of the Bride.  What a wonderful opportunity to share the awesomeness of God's Heavenly Kingdom with so many great people.
Here is the link to the radio show.  I hope you are both entertained and blessed in Jesus Name.


http://www.theedgeam.com/interviews/John_Baptist_08.27.11.mp3
And here is a link to The Edge AM web site:
The Great Tribulation and the Coming New Age
Nibiru (Planet X) History, Bible and Today
Nibiru (Planet X)  History, Bible and Today
Glory to Jesus, so many new "alerts" have come into Tribulation-Now, that it demands a special radio show to discuss all of them.
From Elenin growing to 200,000 km in size, to new reports surfacing on Nibiru being 30 days behind Elenin, there seems to be no end to the reports.
Moreover we will cover some key 20th century New World Order events as they apply to Nibiru, and the conspiracy to hide the facts from the public.
We will also go through emails sent from the Tribulation-Now email list, and discuss troubling reports of military equipment movement as well.
Time to be prepared in Jesus Name.
GOD BLESS YOU
Unmasking our Adversary Satan AKA Lucifer
Jesus told us that He is sending us out as sheep in the midst of wolves.  He told us to be "as gentle as doves" BUT also "as wise as serpents" (Matt 10:16).  We cannot be as wise as a serpent unless we know something about The Chief Serpent – Satan AKA Lucifer.
On tonight's show we'll dive into four key points about our adversary the devil:
1.      Satan was CREATED in PERFECTION as Lucifer
2.      Satan was CORRUPTED through PRIDE
3.      Satan CONTINUES in apparent POWER for now
4.      Satan is CONSIGNED to the PIT for eternity
There is a major move today in this world to divest Lucifer from Satan.  Many are saying they are not the same person.  Some are even defending Lucifer saying "He's gotten a bad deal."  Tonight we'll learn the truth about what's behind these claims from The New Age Movement, Theosophy and even the Masons.  And more importantly who we are in Jesus Christ as His sons, co-heirs to the Kingdom of The Most High God, The King of all kings and LORD of all lords!
The Baptism of the Holy Spirit
The Baptism of the Holy Spirit
Join Kenneth Beer and John Baptist from Tribulation-Now to hear their testimonies about receiving the Baptism of the Holy Spirit and other amazing scriptural and historical tidbits you should know about regarding our "greatest gift" from the Heavenly Father.
We will talk about scriptural guidance when seeking the Baptism, and help and encourage you as the Lord leads.
The Baptism of the Holy Spirit is the "arch enemy" of Lucifer and his minions.  The Roman Catholic "Inquisition's" primary goal was to destroy any surviving apostolic groups that continued to practice and walk in the gifts of the spirit and label them as "heretics" and "gnostics".
Glory to Jesus, we hope you join us.  This may be the first of several shows focusing on this fabulous empowering gift from our Awesome God!
How to Pray – "The Furnace of Baal"
Originally intended to be only a "co-hosting" test show, the Holy Spirit lead the content in an unexpected way.
If you are interested how to pray to the Lord, so that "His will" be done in your life, this may be a great show to listen too.
It's only 30 minutes in length. God Bless You.
Elenin and 11:11 Update (Pilot)
Glory to Jesus things are becoming VERY exciting.  People have been seeing 11-11 for a long time now, Christians and New Agers alike.  Elenin's most thought provoking alignment is 11-11-11.
The Feast of Trumpets starts with the blow of the "final trumpet" at the end of September.
This is the first radio show of Tribulation-Now with Kenneth Beer, Ph.D. and John Baptist the author of Tribulation-Now's articles.
Expect "technical difficulties" as this is our "pilot show".
Glory to Yahushau Jesus Christ the King of Kings.
Get Ready for the Rescue Mission … Time is SHORT!
Praise Jesus