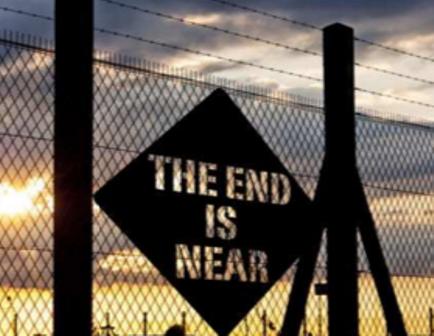 THE CURRENT PROPHETIC "INTEL" SEEMS TO INDICATE THAT:
 1) Trump may have something very bad may happen to him,
2) Trump will NOT get elected, or will have his presidency "usurped" by Obama through orchestrated chaos
(Update - Please Note: He does  not become President until AFTER January 20th)
3) Hillary will get elected, or be appointed depending on who it unfolds
4) Chaos ensues between election and inauguration (Jan 20), or soon thereafter (it depends on the Lord)
5) Martial Law established
6) Obama maintains Control of the US
7) Hillary become tyrant under the Antichrist, Obama the "man of perdition"
The Man of Perdition will Take Control
Subject: Barb Godshealer7 12/7/16 11am
Sound the Alarm! Warn My people, The Kingdom will Fall 2 Thess 2:3 (...the son of perdition...)
Barb gave disclaimer that she doesn't watch tv or follow politics. She doesn't care about politics, but this prophecy is about our new president elect, Donald Trump.
Daughter-Sound the Alarm!!!  Your new king walks on the wide path.    Warn My people.  His lips speak one thing as his heart speaks another.
He has let an enemy into his house!   This enemy will whisper into his ear.   Together, a plan will be made and a decree issued that will cause
Destruction from within the kingdom.   A distraction that will put My people, Israel, in further harm, as the armies surround them, your king will
Continue to speak a message of peace and safety.
The borders have already been weakened.    The enemy lives among you in silence, waiting for direction to take action!
Their weapons have been hidden in desolate places; those that claim they are your friend are your enemy.
Sound the alarm!!!   The kingdom will fall.
The man of perdition will use this as an opportunity to take control, king against king. Kingdom against kingdom.
Sound the alarm!!!  Warn My people!
Barb: So, I am sounding the alarm!   Mr Trump, I'm not sure what's going on in your house, but according to this prophecy,
What is going on in your house is not a good thing.
Recent Prophetic Update from sister Abby Hayes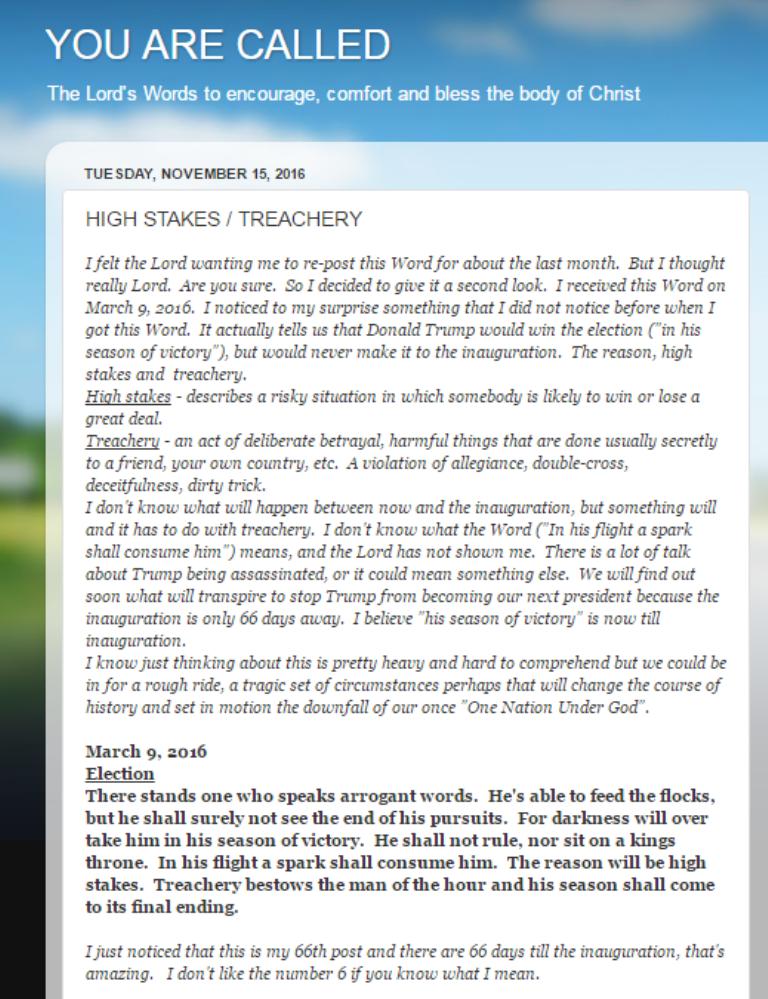 For more go here: http://iamisseeking.blogspot.com/2016/11/high-stakes-treachery.html
The "Default" Coincidence
Note: Back in May of 2016, Pastor Benjamin Faircloth received an unusual word from the Lord which said that Hillary would win the election "by default".  The first image shows the prophecy given to pastor Faircloth.
Notice in the second image (below the prophecy) you see an excerpt from History.com about the Electoral College and how the "default" process when a "gridlock" occurs; is the use of the House of Representatives to break the tie or to resolve the conflict (if not a tie).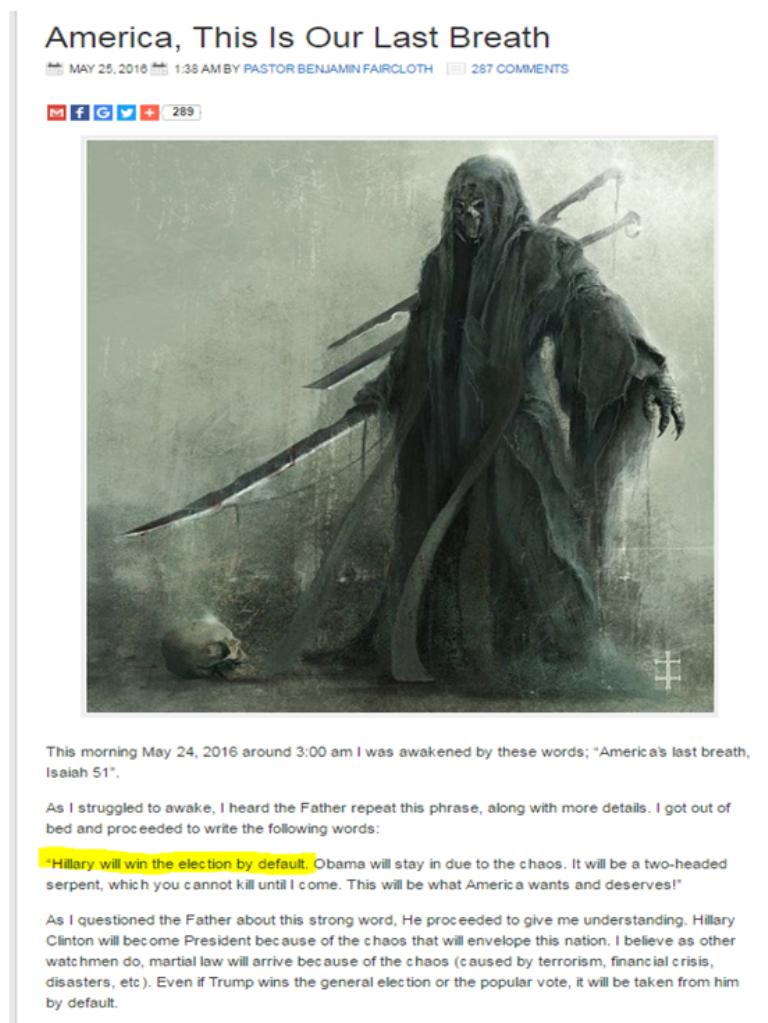 History.com Electoral College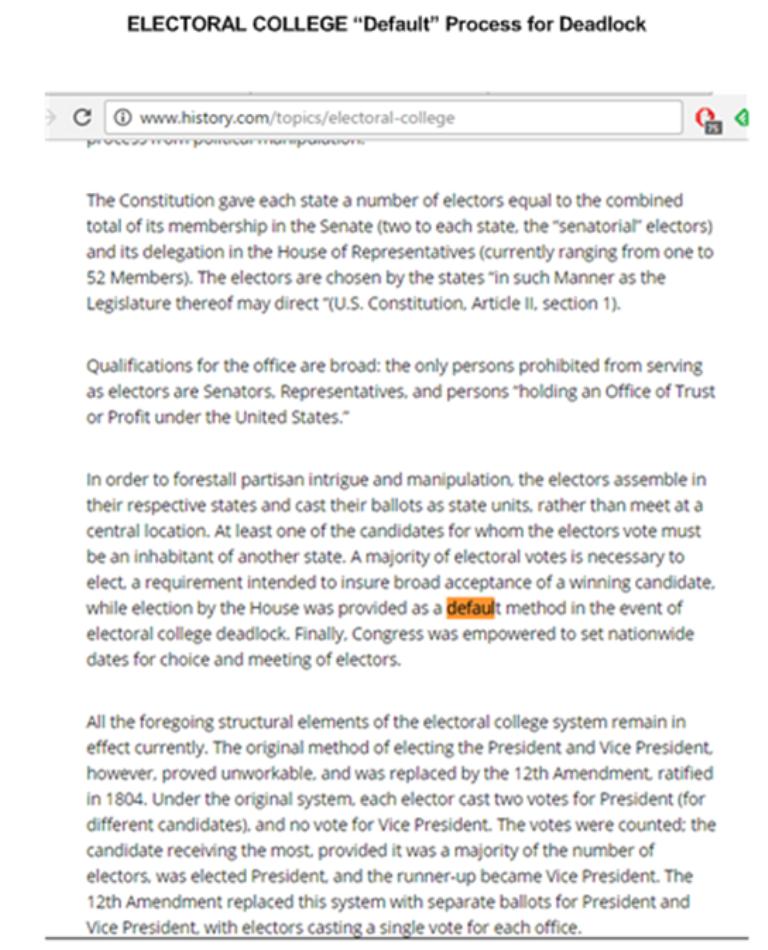 Obama Martial Law Antichrist Prophecies
Non-Exhaustive Prophecies List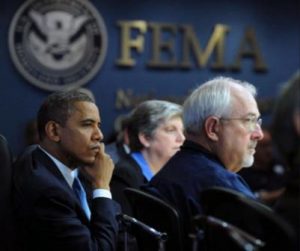 C. Alan Martin 1971 Vision of the 12 Houses
Jack Damal 1980 – African American President Turns Dictator
Dorothy Seitzinger – 1972 – The Antichrist is a Mulatto Man
Natan and Rabbi Rami Levy – Obama Starts the Gog Magon War
Patricia Green – Obama President When Tsunami Hits (Five Passovers from 2014)
Glenda Jackson – Obama Cancels 2016 Election Institutes Martial Law, (See: Sid Roth, Jim Bakker)
George Pennicuff – Obama Persecutes Christians, He is the Antichrist
Prophecy Jay Hudson – Obama will be the Last President
Mena Lee Grebin – Obama will be the Last President
Ken Peters – (Nov 2015) – Three More Years
The Baba Vanga of Ottoman Empire – 44th President, African American, Last President
Rev Traci Shellman – 2005 Obama Last President Prophecy
John Shorey - 2012 - Obama will be the Last President
Melissa Pegs - Dream of an Election with only 2 Candidates, Obama or Obama
J.R. Nyquist - Ronald Reagan, HW Bush, GW Bush, the "the end of the republic"
Kathi Mineer - See Obama in 2007 on TV and knows He is the Antichrist
Maurice Sklar - America, America, Prepare to Meet thy God
Stephen Hanson - 2015 - Obama Will Not Be Taken Out of Office
Benjamin Faircloth - 2016 - Obama and Hillary become a 2 Headed Serpent that Destroy America Until Jesus Comes
William Branham's 1933 Vision - A Cruel Woman (Hillary) will seize power in the US (see above vision)
The Son of Kenya Prophecy - 1912 - Prophet Owalo - America's great cities will burn (...) and the destruction will come through the vengeful hands of one of our very own (Kenyan sons)
The 12th Imam Prophecy - Islamic belief - Man born with name Hussein, a Tall black man will govern the West
Pastor Jack Hyles - 1970 - Predicts a Negro Man (or somewhere in between) will become the Antichrist
Jean Dixon - 1969 - A Man of Ancient Egyptian Heritage becomes the Antichrist
Atheist Visit to Heaven - In the addendum, he adds that based upon the years of his life given to him while in Heaven, the war, "death and collapse of civilization" and Jesus returning occurs before the year 2020.
More information: The Obama Prophecies
Also:
Quoting James Bailey reading Larry Findland's email:
" I was visited by the Spirit of God and told that a black man would become king in the United States. God gave him Ezekiel ch. 29-32. These chapters talk about Gods judgment on Egypt though an evil ruler the Pharaoh. The man was not known to me until years later because he was not in the government at that time. However much of my earlier years as a prophet of judgment and restoration concerns the evil the Clinton's would bring to the United States after Obama. President Obama will afflict the church and the righteous until April 27 2019 which is the feast of unleavened bread."
PROPHETIC WORDS FROM 1700-1800
The year 2016 is the Rise of the Antichrist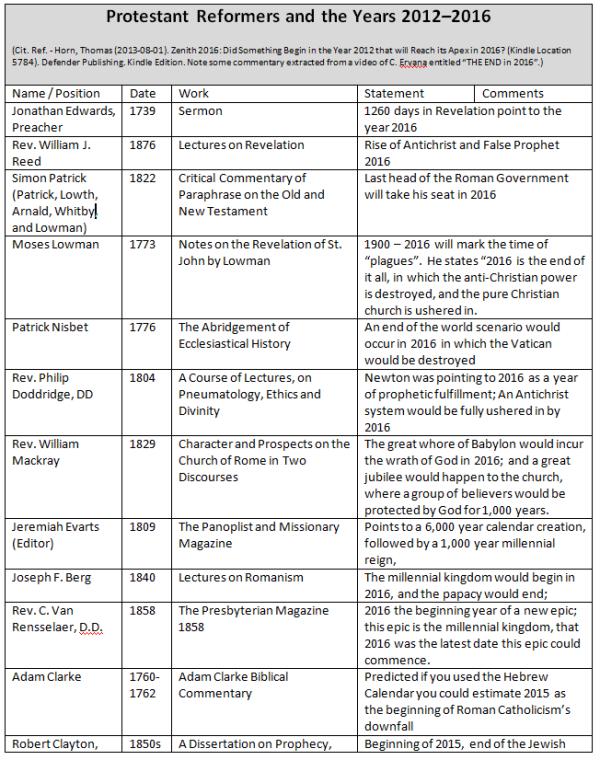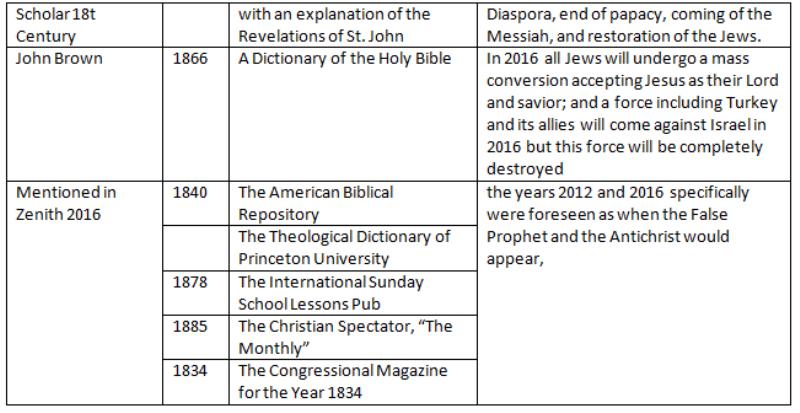 VITAL WARNING: About Prophets and Seducing Spirits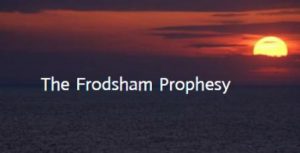 http://www.paulbenson.me/stanley-frodsham.html
Glorious thought provoking discussions about the End of the Age, current events, the "rescue mission", our awesome Intergalactic God and His Son and our King Jesus Christ.
Live Worldwide Gathering
Wednesday and Sunday Nights
8PM Eastern Time
Friday Night Prayer Vigils and Communion On-Line
7PM Eastern Time
PODCASTS AVAILABLE THROUGH
iTunes, Stitcher, BeyondPod and other popular services
CLICK HERE for over 500 Radio Programs covering just about any subject you can think of PRAISE JESUS!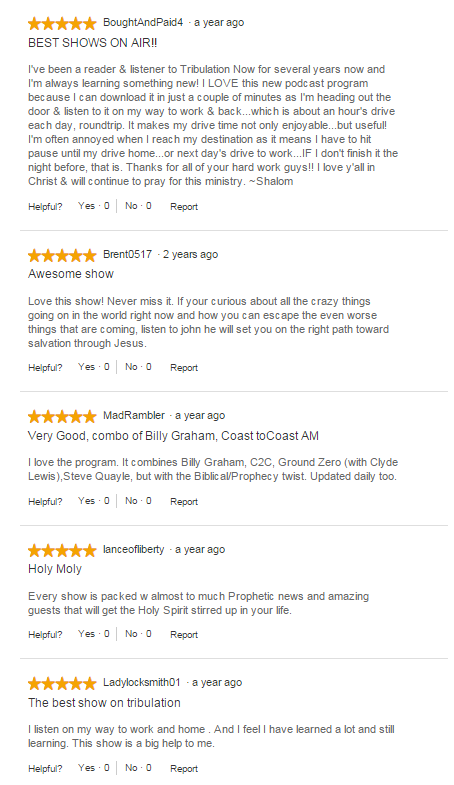 More Testimonies, All the GLORY to Jesus!!
The FULL: Glenda Jackson Prophecy
Note: This is from "Knowing the Voice of God" and prophesies about the power given to the Remnant Bride during the final Harvest including:
Supernatural Powers
Supernatural Provisions (food, water, out of "no where")
Raising People from the Dead
Commanding and Controlling the Weather
Commanding and Dispatching of Angels
And much more ....
For a written transcript see: Z3News here: http://z3news.com/w/no-enemy-will-stand/
MP3 AUDIO ONLY FILE
Can You Guess Who I Am?
Perilous Times Ahead and Supernatural Translation
Behold I Come - 03/01/16
My little ones, the day grows increasingly dark. I am your only hope. As it was in the days of Noah, so also shall it be in the coming of the Son of man. Look to Me, for I am your only safe guard. The road to heaven is narrow and steep, but as I promised in My Word, you will hear a voice behind you saying, "This is the way, walk in it."  Trust in Me, for I will keep your feet from slipping and your steps secure. Flee the ways of the world, for many are on the road to destruction wooing you and desiring to have you join them in their glee. They do not see the trap of Satan; therefore they mock My warnings and make sport of My return. Pray for them, that their eyes be opened and their hearts softened.
Perilous times are ahead. Great disasters will occur simultaneously and multitudes of souls will die. During this time of immense catastrophe, My workers will be transformed to complete the tasks that I have ordained for them. Sometimes you will be seen and other times you will not. Your physical body may appear to be sleeping quietly in the bed, while you are a world away bringing in the lost. You will go where I send you and come back again in an instant, for earthly needs will be staggering and your tasks will encompass the globe.  Bodies will grow new limbs and gaping wounds will close at your command as you walk through the earth performing My Will. Food, water, and shelter will appear from your hands as I provide for the multitudes crying out to Me in desperation. You will work the works of Him who sent you, for the harvest is great. Do not fear My little ones, as you watch the world crumble before your very eyes. Your heart will soon leap with anticipation, for you will hear My call. Joy as you have never known is just before you. Look up My little ones, as your redemption draws nigh; for your Messiah, Yeshua HaMashiach, is stepping through the door.
Shalom
JOHNNY BAPTIST'S TESTIMONY
More of Rob's work can be found here:
The Eternal Planner w/ Rob Rennie
And here:
MYSTERIOUS BROWN DWARFS
Astronomy Magazine May 2015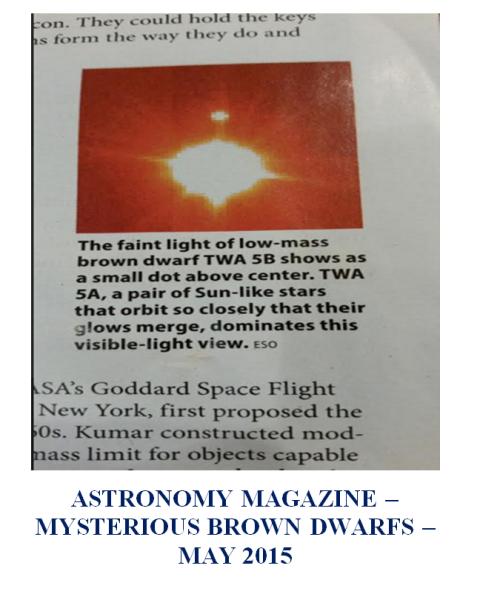 COMPARE TO:  This Video Just Recently Taken 
The GWOW Radio Programs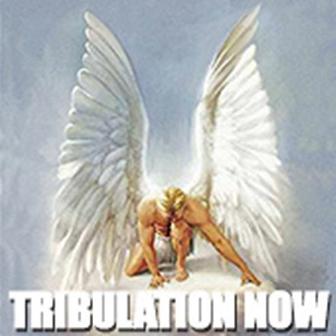 PRAISE GOD WE TALK ABOUT ALMOST EVERYTHING
The following is four hours of action packed testimony and discussion about incredible and very advanced subjects about the Bible, creation, supernatural testimonies, and mysteries of our existence and the near future.
GLORY TO JESUS!!
ALIENS, DEMONS, FALLEN ANGELS, DIMENSIONS, NEPHILIM, JESUS, THE BRIDE AND EVERYTHING IN-BETWEEN
This program covered highly advanced concepts such as extraterrestrial / other-worldly life forms, the vastness of our Universe, who Jesus is amid all this amazing intergalactic creation, hosts of Heaven, CERN, inter-dimensional effects on our solar system, Planet X's influence on the catastrophic weather patterns on earth, the alien strong delusion, advanced technologies and how it all fits into the Bible and the amazing story of who we are as sons of God.
Mysteries of Spiritual Warfare, Effective Prayer, and Communion
(Note: This program is live every Friday Night 7PM Eastern Time.  This is a recording of the Jan 15, 2016 service)
2016 Election Cancelled and Martial Law (URGENT)
Glenda Jackson Show Segment on Tribulation-Now
THE END in 2016: The SHOCKING Predictions of 12 Mysterious Men

PROPHECY COLLECTION PDF

=====================================

 Revelation "Seals" Events

To Happen Prior to the Rapture

(note: derived from prophecies, dreams and visions from different sources)

Seals Events Timeline

Please Note: This list was compiled from a large number of A-list prophecies, dreams and visions over years of time.  See the confirmation from the YouTube video of Sister Claire below it that just came out April of 2016

Libya Nukes Israel (Psalms 83)
Other Nukes (Missiles and Ground) (FOURTH SEAL; 'on down')

Israel -> Iran?
North Korea -> USA
Russia -> USA Cities Nuked from Ground

Financial Collapse (THIRD SEAL)
Chemical, Biological Attacks
Disease, Riots, Chaos, Mayhem, Starvation
EMP Attack (USA and Israel)
Obama (attempts to) ratifies Israel Peace Deal Jerusalem Split
(Possible)

First Watch Rapture

/Evacuation (See Luke 12:37-39; see TD Hale Nov 24, 2012 Dream - Streaks of Light)
Rodriguez Puerto Rico Meteor Slams Atlantic (SIXTH SEAL)

US Splits in Half (New Madrid)
East Coast Tsunami
California Megaquake (splits into ocean)

Horrible Winter & Three Days Darkness
Aliens Arrive (huge round mothership in the sky, seen worldwide)
Harvest, Glory Light
Final "

RAPTURE

" (Second/Third Watch? Luke 12:37-39)
Final Nuclear Destruction (Babylon the Great)
FIRST TRUMPET - EARTH BURNS
> The Rest of "The Great Tribulation" (God's wrath)